FLASH: North Korea Moving Military Assets into OFFENSIVE Positions; Artillery at DMZ moving to "Combat Posture"   Featured  
Post by  Newsroom    - Apr 12, 2017  
UPDATED 9:48 PM EDT (See Bottom) North Korea has begun moving military assets into OFFENSIVE positions, including heavy trucks moving nukes across the country despite Chinese President Xi Jinping calling President Trump this morning, urging 'peaceful resolution of Korean issues." 
NHK in Japan is confirming via live broadcast that "heavy trucks are moving __strategic assets__ across North Korea."  The term "strategic assets" means nuclear bombs.
Military analysts now tell SuperStation95 they believe North Korea is going to make a "First Strike" because it is the only option they have left. 
Quote :

#Japan media " #NorthKorea started moving its artilleries to forward position near border " #korea
— aSaintLostInWar (@sandeepbaliga) April 12, 2017


Bug Out While You Still Can! Learn More...

This is a developing story as of 8:30 AM EDT on April 12, 2017.  Please check back for updates . . . 
UPDATE 8:57 AM EDT --
Civilians seem to understand the severity of the events taking place over the past week or so; there is now a "mad dash" to LEAVE Seoul, the Capital of South Korea.  FlightRadar24 shows the mayhem: 
https://www.superstation95.com/images/SeoulOUTBOUND.jpg
https://i58.servimg.com/u/f58/17/16/51/27/seoulo11.jpg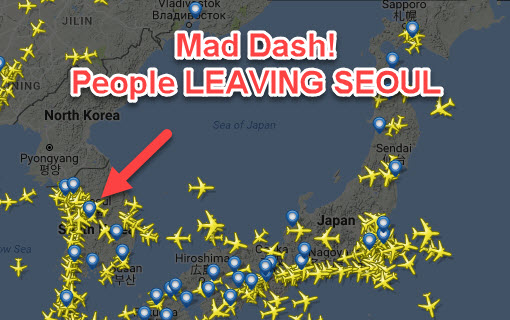 More updates to follow . . . .