https://www.superstation95.com/index.php/world/3672
BREAKING: Officials CONFIRM U.S. Intends to Strike North Korea over Nuclear Test   Featured  
Post by  Newsroom    - Apr 13, 2017   https://i58.servimg.com/u/f58/17/16/51/27/screen13.jpg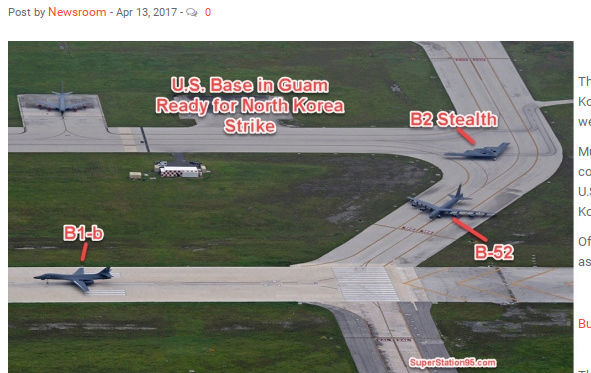 The U.S. is ready to launch a strike against North Korea if Pyongyang goes through with a nuclear weapons test.
Multiple senior U.S. intelligence officials, confirmed to SuperStation95 Thursday that the U.S. is prepared to launch the strike against North Korea with conventional weapons.
Officials said a nuclear test could come as soon as this weekend. 


Bug Out While You Still Can! Learn More...

The U.S. has two destroyers that can shoot Tomahawk cruse missiles in the area, according to the network. One of the destroyers is located 300 miles from the North Korean nuclear test site.
There are also American heavy bombers located in Guam. Earlier this week, it was reported that the USS Carl Vinson aircraft carrier strike group was headed to that area.
In a statement Thursday, North Korea issued a warning to the U.S. — should it take action — of a "merciless retaliatory strike."
"By relentlessly bringing in a number of strategic nuclear assets to the Korean peninsula, the US is gravely threatening the peace and safety and driving the situation to the brink of a nuclear war," North Korea's statement said.
South Korea foreign minister Yun Byung said U.S. officials have "repeatedly reaffirmed that" the U.S. "will closely discuss with South Korea its North Korea-related measures."
"In fact, the U.S. is working to reassure us that it will not, just in case that we might hold such concerns."
President Trump on Thursday tweeted that he has "great confidence that China will properly deal with North Korea." 
"If they are unable to do so, the U.S., with its allies, will! USA," the president tweeted.