https://www.superstation95.com/index.php/world/3889
TIMES SQUARE CLOSED & EVACUATED After Car Mounts Sidewalk, Hits People. Terrorism? -- NOW SECOND INCIDENT IN STATEN ISLAND 
Post by Newsroom - May 18, 2017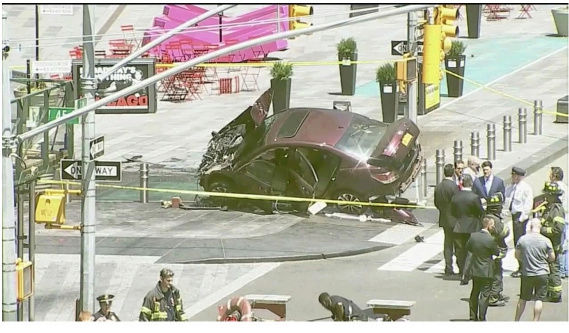 Fears of terrorism prompted the closing and evacuation of New York City's Times Square after a vehicle mounted a sidewalk and plowed into pedestrians.  One person is confirmed dead. Thirteen others are injured.
NYPD dispatched anti-terror units when the calls began coming in that a vehicle drove the wrong way up Broadway and began hitting people on the sidewalk near West 44th St and 7th Avenue.
Video of the incident showed the vehicle began to burn after coming to rest on pedestrian safety barricades 
The vehicle driver attempted to flee, but was held by passers-by.  He is described as a man in his 20's from the Bronx.