FOOD SHORTAGE
https://www.bloomberg.com/news/articles/2017-05-22/u-s-corn-fields-turn-into-lakes-as-spring-deluge-floods-midwest
Heavy Rains Are Turning U.S. Corn Fields Into Lakes
by
Megan Durisin
,
Jeff Wilson
, and
Brian K Sullivan
May 22, 2017, 9:13 AM PDT May 22, 2017, 9:01 PM PDT


Parts of region got double amount of normal rainfall recently

Two more storms forecast this week after weekend showers

The Coming Storm of Climate Change
Some Nebraska corn fields are so flooded that farmers are posting videos of themselves wakeboarding. The image is amusing, but the realities of the heavy spring downpours are pummeling U.S. grain farmers with soggy fields and threats of crop disease.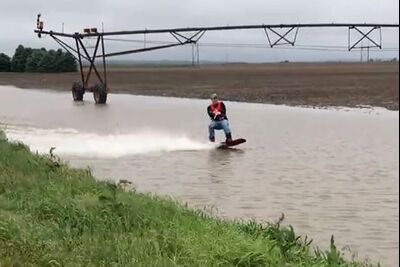 Nebraska farmer Quentin Connealy wakeboarding on flooded cornfields.
Source: Quentin Connealy
In the past 30 days, about 40 percent of the Midwest got twice the amount of normal rainfall, with soils saturated from Arkansas to Ohio, according to MDA Weather Services. While spring showers usually benefit crops, the precipitation has come fast enough to flood some corn and rice fields and trigger quality concerns about maturing wheat.
"I've never seen that much water on that field," said Quentin Connealy, a Tekamah, Nebraska, farmer who posted a wakeboarding video on social media after 4.8 inches of rain (12 centimeters) fell from May 16 to May 20, creating ponds of standing water in the area. Planting at the farm had started about three weeks later than normal because of cool, wet weather, and now will be pushed back again. "We're losing days, " he said in a telephone interview.
Further east, Brandon Bowser, regional manager for Harvest Land Cooperative, which has 26 agronomy locations in Indiana and Ohio, said planting was off to a fast start in the second half of April, before 10 inches of May rainfall and lower temperatures erased early optimism. He estimates about a third of his region's corn will be replanted, and surviving seedlings are at risk of blight.
"It's the worst corn replant in our area I've ever seen in 28 years," Bowser, 47, said. " Bad conditions got worse with rain on Friday. There are lakes in some fields."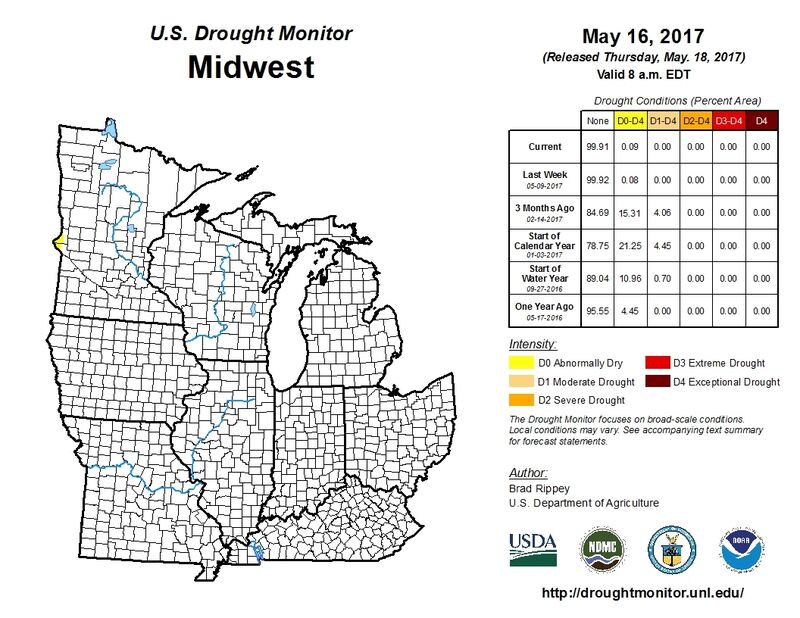 Spring rainfall has kept the Midwest virtually free of drought
The spring deluge is sparking a surprise grain rally amid the crop concerns. Corn and wheat are headed for monthly gains on the Chicago Board of Trade while rough-rice futures are headed for the biggest such advance in six years.
Flood Advisories
A storm system brought more than 2 inches of rain through the weekend to parts of Texas and eastward to Ohio and West Virginia, according to the Weather Prediction Center. Flood advisories have been posted along the Mississippi River and other waterways, many of which are still high after earlier downpours.
Two more storms are forecast for this week, keeping corn and soybean planters idled and increasing quality losses for U.S. winter wheat, Don Keeney, senior meteorologist at MDA in Gaithersburg, Maryland, said Monday. Temperatures will be as much as 2 degrees Fahrenheit below normal this week, slowing field drying and seed germination.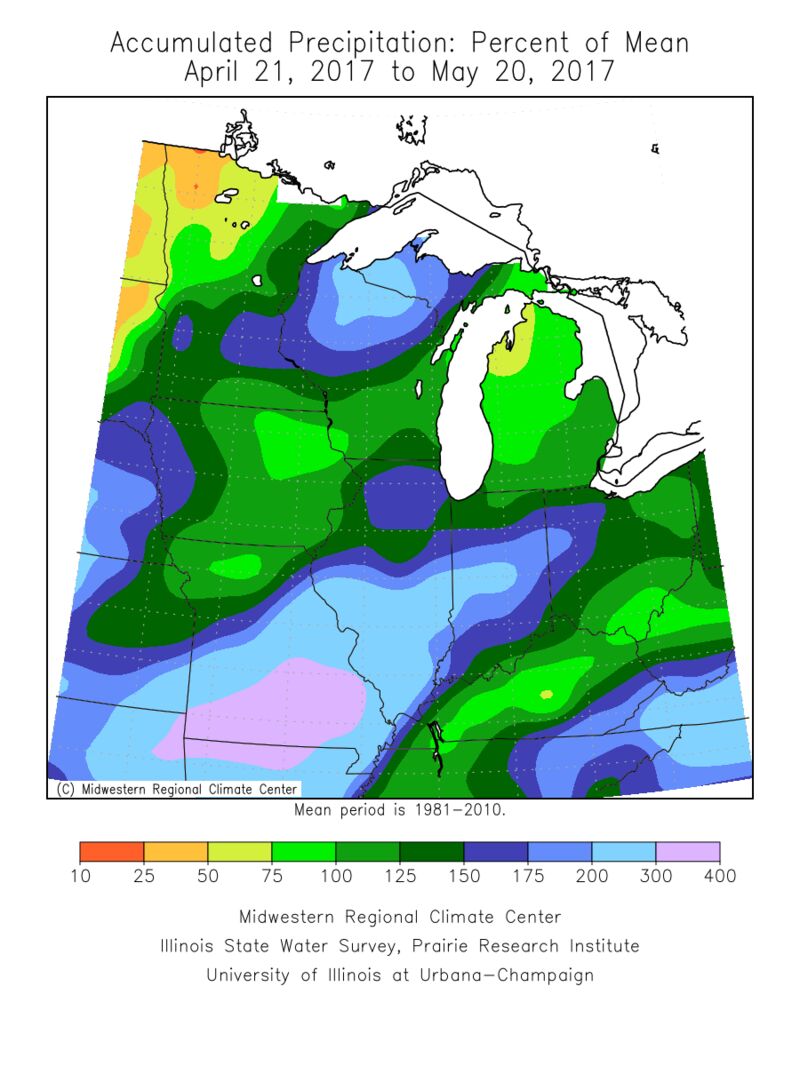 Source: Midwest Regional Climate Center
Back in Nebraska, the rain brought about a foot of standing water to the area of a field where Connealy balanced on a wakeboard and traveled along a ditch, pulled by an all-terrain vehicle at 22 miles an hour, he said. A video of the maneuver was first reported on by the Omaha World-Herald.
Rainy weather has also slowed early harvesting of winter wheat in Texas and Oklahoma. In central Kansas, some low-lying fields have drowned-out spots and wetness may increase pressure from rust diseases, said Erick De Wolf, a wheat-disease specialist at Kansas State University. Western Kansas production remains "a question mark," as crops that endured a crushing April snowstorm are also battling a worse-than-normal outbreak of wheat streak mosaic virus. Thirty-two counties face high or extreme intensity of the disease, which can cut yields 70 percent or more.
Rice Losses
Rice, a much smaller crop, has also been pummeled by the deluge. University of Arkansas estimates 181,450 acres of newly-planted fields were lost to flooding, or about 15 percent of the area the U.S. Department of Agriculture had forecast to be seeded in the state, the top U.S. grower.
Even with the challenges, farmers have made speedy work of planting. U.S. sowing of soybeans and spring wheat was ahead of the five-year average as of May 21, while corn planting and emergence was just behind the normal pace, government data showed Monday.
The correlation between mid-May corn planting and final yields is fairly weak, and summer weather is the more important factor, Professional Farmers of America said in a May 19 newsletter.
"We will know more in two weeks when the plants are bigger," said Tom Hooper, director of business for Beck's Hybrids, which sells seed in nine states from Wisconsin to Tennessee. "The crop can catch up fast."