http://halturnerradioshow.com/index.php/news/u-s-national-news/764-entire-volcano-in-california-is-moving-quakes-may-signal-trouble
U.S. National News
Entire Volcano in California is "Moving" - Quakes May Signal Trouble
http://halturnerradioshow.com/images/LongValleyCaldera.jpg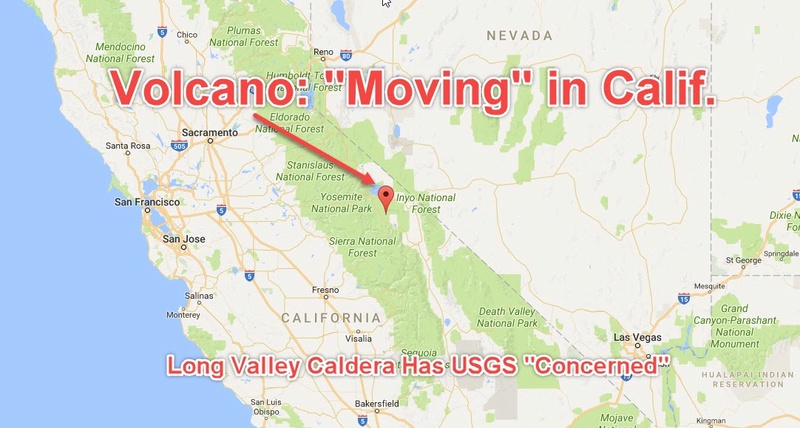 When people think of California, they may think of Earthquakes.  Most folks don't even know there are volcanoes there, but there are.  At least two:  Lassen Peak and the much larger Long Valley Caldera near Mammoth Lakes.  
In 1915, Lassen Peak erupted and wrecked a huge portion of the state.  Over the last 100 days, the much larger Long Valley Caldera has begun acting-up.  And what it's doing has Geologists at the US Geological Survey "concerned."  The Caldera - the mouth of the Volcano - is . . . .
moving.  
According to scientific instruments monitored by the United States Geological Survey (USGS) the area in vicinity of the Long Valley caldera is deforming and moving rapidly compared to previous records. How sure are they? "95% (confidence interval), the (data) ensemble is significant"
The data is showing on a recent timespan that the amount of movement is causing STATISTICALLY SIGNIFICANT STRAIN in the rock in the area. This is not conspiracy-theorist conjecture or amateur geology antics, this is from the USGS itself.  Here's the actual data -
if it looks to you like gobbledygook, you're not alone; scroll down for an understandable explanation:
USGS INSTRUMENT MEASUREMENTS
The following exceed SNR 1.5 and at the 95% CI, the ensemble is significant
The time span is 31 out of 730 days To be significant at the 95% CI, counts need to exceed 20 Units in either mm/yr or nano-strain/yr
(Let me save you the trouble . . . . ALL the readings in this first data set EXCEED 20 Units; the ones in RED exceed it by a lot!)SEE THE MEASUREMENTS @ LINK!!!!!!!!!