http://www.38north.org/2017/09/punggye091217/
BY: 
38 NORTH



SEPTEMBER 12, 2017




SATELLITE IMAGERY



[size=30]A 38 North exclusive with analysis by Frank V. Pabian, Joseph S. Bermudez Jr. and Jack Liu[/size]
New commercial satellite imagery confirms earlier 38 North analysis identifying numerous landslides throughout the Punggye-ri Nuclear Test Site on the slopes of Mt. Mantap (and beyond) resulting from North Korea's sixth nuclear test. These disturbances are more numerous and widespread than seen after any of the North's previous five tests, and include additional slippage in pre-existing landslide scars and a possible subsidence crater. However, it is unclear from the imagery whether this subsidence is due to what has been reported as "a cave-in that was externally observable," associated with the 4.6 magnitude event that occurred eight minutes after the test.
There also appears to be increased water drainage in the North Portal Area, likely stimulated by the large underground nuclear test. Such underground water flow stimulation (brought about by expansion of existing cracks and fissures) could also be expected to promote the transport of radionuclides to the surface, and is not inconsistent with a more recent report that some radionuclides (traces of Xenon-133) were detected in the environment following the test (by South Korea).
Imagery from September 8 also shows a large tractor/trailer cargo truck in the South Portal Area for the first time, and mining carts and other equipment are present outside the West Portal. Such activity, coming shortly after the largest underground nuclear test conducted at Punggye-ri to date (via the North Portal), suggests that onsite work could now be changing focus to further prepare those other portals for future underground nuclear testing.
Revised Magnitude Estimates Raise the Equivalent Yield to Approximately One Quarter of a Megaton
At the time of 38 North's first report on the sixth nuclear test, the preliminary seismic magnitude estimates varied from 5.8, as published by both the CTBTO and NORSAR, to 6.3 by the United States Geological Survey (USGS). More recently, both the CTBTO and NORSARhave officially revised their estimates upward to 6.1. This revision is significant because, rather than providing an equivalent yield of about 120 kilotons derived from the lower magnitude estimates, the application of standard formula with appropriate constants shows that the yield can now be estimated to have been roughly 250 kilotons (one quarter megaton). This large explosive yield is also quite close to what 38 North had previously determined to be the maximum estimated containable yield for the Punggye-ri test site.
The CTBTO also published a very useful graphic illustrating the relative strength of this most recent and sixth underground nuclear test vis-à-vis the DPRK's previous five acknowledged tests to date (Figure 1).
Figure 1. Comparison of seismic signals of North Korea's six nuclear tests by the CTBTO.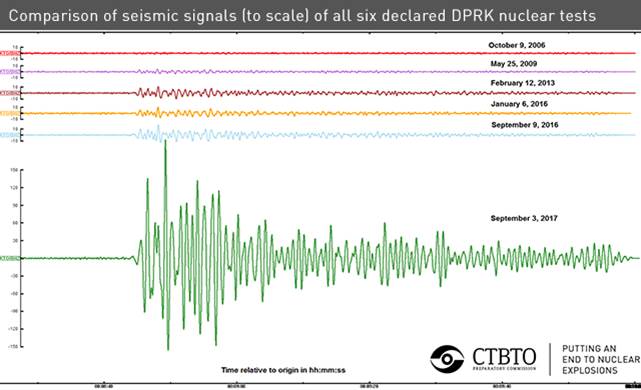 Comparison of seismic signals (to scale) of all six declared DPRK nuclear tests, as observed at IMS station AS-59 Aktyubinsk, Kazakhstan. (Source: CTBTO)
Post-Test Commercial Satellite Imagery
Multiple satellite images of the Punggye-ri Nuclear Test Site following the nuclear test form a mosaic of new information on post-test effects and activities around the site.
MORE@LINK ABOVE + PICTURES