https://www.tigerdroppings.com/rant/politics/q-p1553-trump-tweets-about-tarmac-meeting-unraveling-threads-of-everything-thread/73190719/page-1554/
re: Q: (p1553: Trump tweets about "tarmac meeting") Unraveling Threads of Everything ThreadPosted on 4/15/18 at 11:46 am to BigD13
Other "Shot heard around the world" Q drops
Why are American taxpayers subsidizing Tesla?
Welfare for the rich.
Why?
Private emails: GOOG: NK: Tesla
The MEMO is ONLY THE BEGINNING>
THE SHOT HEARD AROUND THE WORLD.
Effective yesterday, while standing under the statue of FREEDOM, POTUS FREED those 'good' people who are currently being blackmailed, threatened and enslaved.
Those who stood chanting "USA" were FREED.
The shot heard around the world.
TG>
WE, THE PEOPLE.
FREEDOM DAY.
LIGHT.
Q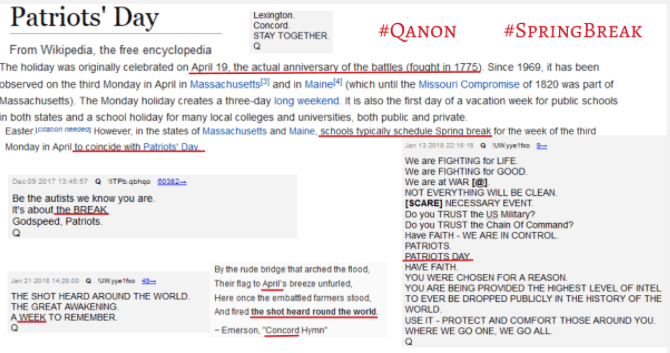 re: Q: (p1553: Trump tweets about "tarmac meeting") Unraveling Threads of Everything ThreadPosted on 4/15/18 at 11:37 am to BigD13
Guess what day Patriots Day falls on in 2018?? Third Monday in April?
April 16, 2018
AKA tomorrow [today]