Put your "i am not illiterate" glasses on folks. We're going to take a stroll through the land of Oz. Some "terms" require definition and that will be done in future posts.
The following is what happens to beautiful, innocent babies placed into the hands of Baal (from Black's 5th):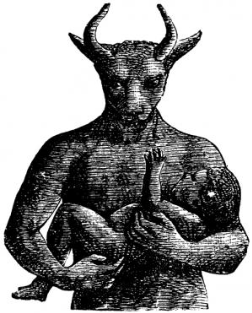 Bail
v. To procure release of one
charged with an offense
by
insuring
his future attendance in court and
compelling him to remain
within
jurisdiction
of court. To
deliver
the defendant to persons who, in the manner
prescribed
by law,
become securi­ty
for his appearance in court. To set at liberty a person arrested or imprisoned,
on security being tak­en
for his appearance on a day and a place certain,
which security is called
"
bail
," because the party arrested or imprisoned is
delivered
into the hands of
those who
bind themselves for his forthcoming
. See also Release on own recognizance.
The object of "bail" in civil cases is either directly or indirectly to
secure payment of a debt
or perform­ance of other civil duties, while in criminal cases object is to secure appearance of principal before the court when his presence is needed. In its more ancient signification, the word includes the
de­livery of property
, real or personal, by one person to another.
Mom and/or the doctor deliver babies. To be continued ...