It's about time!

What frikin' took 'em so long?
Sky screamers gonna scream some more! Rain hell down on 'em all! 
https://www.washingtontimes.com/news/2018/oct/12/hillary-clinton-lost-security-clearance/ 
The Washington Times wrote:


The Washington Times - Friday, October 12, 2018
 
Hillary Clinton has given up her security clearance in the wake of the scandal over her handling of secret information on her email server, the Senate Judiciary Committee revealed Friday.
 
Chairman Charles E. Grassley also revealed top Clinton aide Cheryl Mills and four others no longer have clearance.
 
Mrs. Clinton's clearance expired at the end of August. The others lost their access privileges in September.
 
The State Department, in a letter to Mr. Grassley, had said Mrs. Clinton and her aides retained clearance in order to conduct research after she left office.
 
The names of the four additional aides besides Ms. Mills were redacted from the State Department letter that the committee released.
https://twitter.com/prayingmedic/status/1050859714999963649?s=21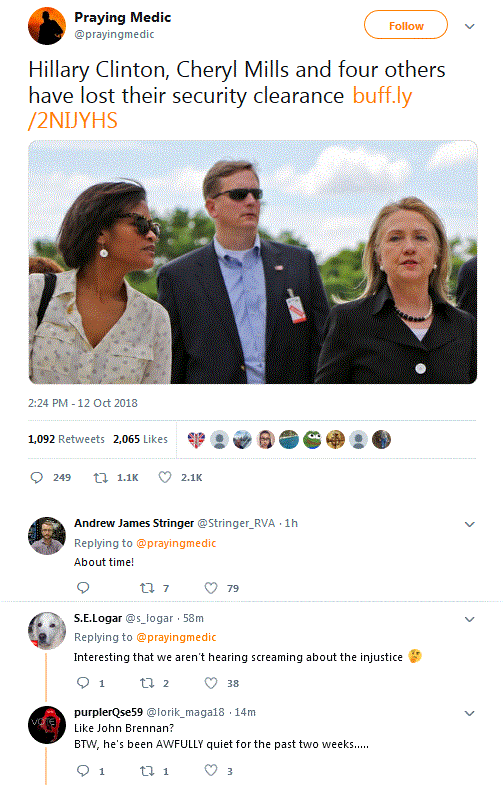 Random Thoughts & Things Rattling Round Inside My head This Week
Ruth Bader Ginsburg has become as elusive as the mysterious Sasquatch
– (update) Sasquatch has been sighted –

Earworm from 1979: (Disco Warning)
Ring My Bell – Anita Ward  https://youtu.be/LvKUjl8qGKw
God shave the queen
Lettuce Romaine Calm
How many bullets did we dodge when Hillary lost?