http://halturnerradioshow.com/index.php/news/u-s-national-news/3366-oct-31-u-s-moving-artillery-to-border-with-mexico
Oct. 31 - U.S. Moving ARTILLERY to Border with Mexico
With a so-called "migrant caravan" moving north inside Mexico toward the U.S. southern Border, President Trump has ordered the deployment of armed military troops to prevent the invasion.  Strangely, in addition to troops deploying, video obtained days ago showed trainloads of M1A2 Abrams TANKS heading south (Story Here). 
Today new images from California show trainloads of Armored Personnel Carriers (APC's) and . . .  vast quantities of ARTILLERY.
A nation does not use tanks and artillery on migrants.  Clearly, something else is up.   Something far more serious.
The President has the authority - and obligation - to stop the migrant mob from invading  the USA pursuant to Article 4, Section 4 of the US Constitution, which provides that the federal government will ". . . protect  them (states) from invasion . . ." 
The deployment of troops is one thing, the deployment of tanks and artillery signals that something ELSE is going on . . .
Here are photos taken from a video published by the Los Angeles Times.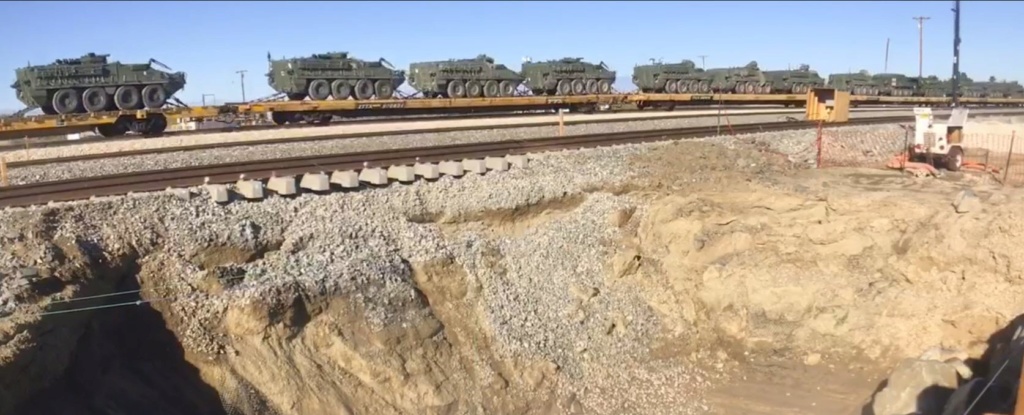 The LA Times made the video as part of a story they did on an underground geyser that is moving, and it's movement is bringing it dangerous close to main railroad tracks, Highway 111, an underground oil/fuel pipeline, and the main Fiber Optic backbone for most of southern California's Internet.
While interviewing the Chief of California's office of emergency management, the train load of APC's and Artillery passes in the background behind him.  Moving south.  Toward the US Border with Mexico.
Intelligence information coming to me from my former colleagues in the Intelligence community indicated days ago that both China and Russia have begun massing troops inside Venezuela.
With the election of a new President in Brazil last weekend, there is now open talk between Brazil, Colombia and the US of using military options to oust Venezuelan President Maduro because so many people in his country are literally starving.  Tens of thousands of Venezuelans have fled the country in desperate attempts to survive.  The situation in the Socialist Paradise of Venezuela is so dire, citizens in its capital city, Caracus, are eating out of garbage dumpsters, and slaughtering cats and dogs for food.
So are the trainloads of Tanks, APC's and Artillery heading for the US Border because of the so-called "migrants" - - - or is it going there because an invasion of the United States is being planned, with China and Russia using Venezuela as a base of operations?
Stay tuned. . .
Here is the full LA Times video:
http://halturnerradioshow.com/index.php/news/u-s-national-news/3366-oct-31-u-s-moving-artillery-to-border-with-mexico