http://www.breitbart.com/big-government/2017/07/11/trump-closer-12-carrier-navy-goal-uss-gerald-ford/
President Trump Closer to 12-Carrier Navy Goal with USS Gerald R. Ford's Commissioning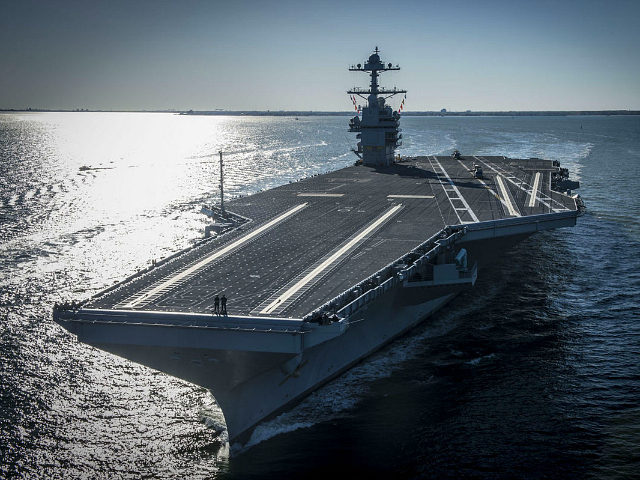 Mass Communication Specialist 2nd Class Ridge Leoni/U.S. Navy via Getty Images
by Kristina Wong11 Jul 2017
NAVAL STATION NORFOLK, VA — Smelling of fresh paint instead of jet fuel, the U.S. Navy's newest, most advanced aircraft carrier will join the fleet this weekend, bringing the nation's carrier fleet back up to 11 and marking the beginning of Trump's military rebuild.
The USS Gerald Ford will be commissioned this Saturday in a ceremony that will draw VIPs including Defense Secretary James Mattis, 38th President Gerald Ford's daughter Susan Bales Ford, and perhaps even President Trump himself.
Trump has pledged to bring the Navy's fleet up to 350 ships and the carrier fleet up to 12. The Ford's commissioning marks a significant step towards that goal.
It also ends a five-year stretch of the U.S. Navy only having 10 carriers, despite a law requiring 11 that has been waived by Congress every year since 2012.
The Ford will be the first new class of carrier in more than 40 years and is designed to be more lethal, more technologically advanced, and more efficient, with a better quality of living for sailors.
Trump, after a tour of the Ford in March, called the new carrier "American craftsmanship at its biggest, at its best, at its finest."
"This ship will make an extraordinary addition to the fleet, like no other, like no other. Anywhere in the world, there's nothing like this. It represents the future of naval aviation," he said.
Ahead of the ceremony, a group of journalists, including Breitbart News, got a sneak peek of the brand new ship.
One of the most significant changes from the previous Nimitz-class ships is that the flight deck has been designed to increase the rate of strike sorties by up to 33 percent, incorporating a NASCAR "pitstop" concept that allows for aircraft to be rearmed, refueled, and turned around faster for their next mission.
"The more bombs I get over the target area, the more lethal I am," the Ford's commander, Navy Capt. Richard "Reddog" McCormack said on Monday.
The Ford's systems have been updated from the Nimitz-class carriers to be more autonomous and technologically advanced.
For example, the helm has a touchscreen control system — the only one of its kind, according to Quartermaster First Class Jose Triana, the Ford's leading petty officer for navigation.
"There's no more manual throttles; it's all push-button," he said.
There's also now a digital tracking system for aircraft on the ship that has replaced the "ouija board" — a board replicating the flight and hangar decks, with little rubber models of each aircraft.
Navy Lt Cmdr. Jaime Roman, the Ford's aircraft handler, said the new digital tracking system provides more information and gives a better situational awareness of what's going on in the ship.