Guys I have some very important info, since finding this out 48hrs ago have been under very bad spiritual attacks from the enemy.
I'm going to share this as quick as poss,
Been talking with some top people, my little sisters  wedding is coming up soon and been making arragments etc,
It's going to be a big deal, famous illum members going to be in attendance, Blair and Murdoch among them.
I now know  100 percent  what the Vegas shooting was about.  I have been told about the meaning of the eye, spell working on the grid that I showed you, it divides in to 2 halves the left physical the right spiritual the physical was the shots came from the left, and reflects from the Las Vegas village to Excalibur. Covers the sword in blood, see diagram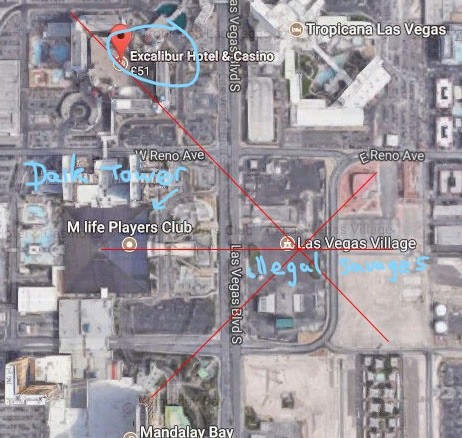 Remember the masonic symbol over the Excalibur Hotel. This was a masonic ritual and a very serious one at that. To empower the masonic anti-Christ too spiritually converts into physically commit murder lots of Americans.
Also remember the story of
Shea  Silvia
an anagram of
sharia evil
, I posted last week, well she was possessed by the spirit of Isis, the two boys Remus and Romulus saved from the bed of reeds, think mosses. They were raised by the beast, adopted.  Also remember the Princess Diana perfume she was Isis.
This is how I believe, if I have joined the dots correctly the working was done and why.
Bullets fired in the physical into the
Las Vegas Village
, this is an anagram of
illegal Savages
, killing blood sacrifice in front of the sphinx which was the god Anubis before the head re-modelling. 
He was the golden jackal god of the underworld and was the illegitimate son of Nephthes and Osiris. Well he was adopted by none other than ISIS.
Think Diana, two sons raised by the beast/wolf, one son William Arthur by the power of Excalibur. The pyramid represented in the new film THE DARK TOWER
See YouTube link I have uploaded, watch it quick because it may not be up for very long
So through Anubis the demons of the underworld are summoned and go in to (possess) the Muslim illegals already in situ to perform sharia evil upon the United States cutting the country in two.
Lastly it was hinted there may be a ww2 German sub with a small nuke on board, not to launch but just detonate. Sitting near Caracas Venezuela in a cave of sorts with the intention of sailing up into the Gulf of Mexico. Let's hope not.